Women's Health Services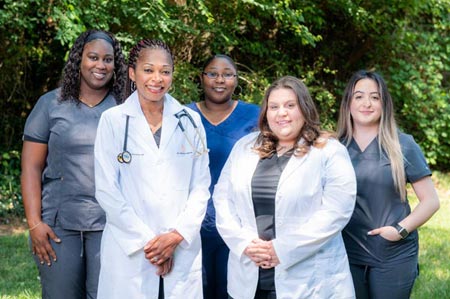 OBGYNs are responsible for treating such personal and sensitive women's health concerns that routine visits are recommended. Don't put off your appointment; schedule a visit with us.
Gynecological Care
We understand that every woman's healthcare needs are different. Our approach to women's health focuses on personalized care plans to meet each woman's changing needs throughout every stage of her life.
---
Obstetrical Care
A sudden stop in menstruation in women who are sexually active, could indicate pregnancy. It is important to visit our office to determine pregnancy or another issue of concern.
If your pregnancy is considered high-risk or you have complications, the specialists at St. Theresa's OBGYN will ensure your pregnancy needs are treated with the highest level of care.
---
Birth Control
For women who are sexually active, it is important to take steps to prevent an unwanted pregnancy.
---
Pap Smear/ Pelvic Exam
Pelvic exams and pap smears are recommended for women above the age of 21 and are necessary when experiencing pelvic pain, delay in childbearing, abnormal vaginal discharge, or menstrual disorders.
---
Menopause Management
A woman has reached menopause when she has not had a period for one year. Some symptoms of menopauserequire treatment.
---
Adolescent Gynecology
You may be worried about your first appointment if you don't know what to expect. At St. Theresa's OBGYN, we want to make sure that you feel comfortable and safe. We explain what happens at the first gynecologist appointment so that you can walk into our office with confidence!
---
In-Office Procedures
Dr. Gertrude Nkiru Anyakwo performs many procedures from the comfort and convenience of our office.