Adolescent GYN Care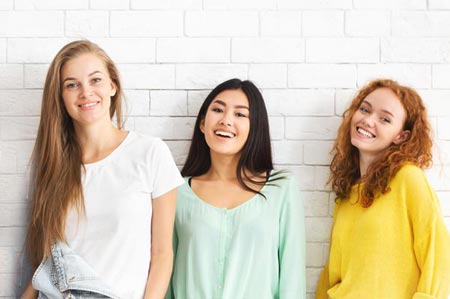 When should a teen girl first visit a gynecologist?
Between the ages of 13 and 15 is the time when The American College of Obstetricians and Gynecologists (ACOG) recommends teen girls see a gynecologist. Although most girls will not have a pelvic exam or a breast exam during this initial visit, most gynecologists will perform a regular health exam and talk about development.
You may be worried about your first appointment if you don't know what to expect. Rest assured, you don't need to be scared! Here at St. Theresa's OBGYN, we want to make sure that you feel comfortable and safe. We're going to break down what happens at the first gynecologist appointment so that you can walk into our office with confidence!
Seeing a gynecologist is especially important for adolescent girls who
have been sexually active,
are planning to become sexually active,
are experiencing vaginal discharge, itching, or soreness,
have problems with periods such as missed periods or heavy bleeding,
have a family history of GYN problems.
After the first visit, teen girls should schedule a gyn checkup once a year, even if feeling fine. By talking with the doctor about what's going on with her body, our healthcare team will get "heads up" if something is not quite right.
---
What should I do to prepare for my appointment?
Before your appointment with us, it's best to have the your questions written down, so you don't have to stress about them during your visit. Some topics may include the following:
issues with your period, such as heavy periods or intense pain
vaginal discharge
sexual issues or problems if you are sexually active
sexually transmitted diseases you've had or think you might have
vaccine history
Write down the start date of your last period and your family medical history. This information can help determine risk factors or the kind of medicine that would work best for you.
---
What happens at a teen GYN visit?
Health History
There are forms to complete that include
insurance information,
the date of the last period,
conditions such as diabetes, asthma, allergies,
medications,
family health history,
lifestyle health habits such as exercise or smoking,
current use of birth control,
current and past sexual activity,
past pregnancies.
The Exam
The appointment starts with a general physical exam. A nurse will check your weight, height, blood pressure and ask for a urine sample before seeing the doctor.
After the general exam and a short talk with the doctor, the doctor may perform a breast exam. If you're young, the risk of breast cancer is low. However, this is a great time to learn how to perform a self-breast exam and spot any changes.
If you're under 21, you probably don't need a pap smear or pelvic exam; however, if you're sexually active or have other concerns such as abnormal bleeding, it may be necessary. During a pap smear, the doctor will collect a sample of cervical cells by swabbing the cervix (the lower part of your uterus) with a small brush. Don't panic if your doctor recommends a pap smear! Be open with your doctor about your fear. We may be able to use a smaller speculum to make the test more comfortable.
All of that might have sounded like a lot to expect, but don't worry! The tests themselves are short. Before you know it, you'll be out of the office in no time!
Recommended Topics for Discussion
Early visits to the gynecologist are an excellent way for a young woman to develop a relationship with her doctor so that she will feel more comfortable sharing personal health information in the future.
With the rumors about sex and sexuality, a visit to the gynecologist gives an adolescent girl the opportunity to get the facts from her doctor.
At first it may feel awkward talking about some topics especially for teens who are not yet sexually active. However, we recommend discussing sex and relationships early, so young women are fully prepared when the time comes.
Our women's healthcare team can also give advice on how to talk to partners about condoms, STDs, and other sexual health topics.
We recommend writing down questions before the appointment, so nothing is forgottent because of nervousness during the initial visit.
Teen girls are often concerned about the privacy of the information shared with her doctor. Be sure to discuss with your doctor whether a parent or guardian is allowed in the room during the exam and what information will or won't be shared.
---
What tests and vaccines should teen girls get?
STD Testing - For young women who are sexually active, the gynecologist may test for sexually transmitted diseases (STDs). This test could involve providing a urine sample, a blood sample, or a vaginal swab.
HPV - For girls who have not had the HPV vaccine, discuss the vaccine with the doctor or nurse. It is recommended for all girls between the ages of 11 and 26.
Additional Vaccines - Other immunizations to protect against STDs, such as a hepatitis B vaccine, may be recommended.
---
What other tips do you have?
Remember that our specialists are there to help you medically; don't worry about how you look! There's no judgment, and there's no reason to be ashamed. Our main goal is to help you!
If you want to learn more about any tests to make you more comfortable, ask! Your doctor will be happy to explain what the test does and why it's essential to do.
You can ask for a birth control prescription even without a pelvic exam, so don't hesitate to ask if it is right for you.
From the second you walk into the building to the moment you leave, you're in control! If a test hurts or you're uncomfortable, speak up!
If you're nervous, feel free to bring a friend or family member with you for comfort.
If you're on your period on the day of your appointment, you can still go! Your period shouldn't interfere with any tests, but give the office a call first to give them a heads up.
There's no need to douche or use perfume before your appointment. Doctors recommend against doing douching at all! Douching and perfume can disrupt the Ph of the vagina and cause issues. Just using water and some gentle soap is all you need.